Julissa Jose: Authentically Scented
This gorgeous woman is setting the record straight. That sounds pretty serious, huh? However, Julissa is setting a different kind of standard; the kind that reminds you to follow your passion. I would like to think that following your heart is not some meme or cliche that was printed on a T-shirt and sold at your favorite store. However, an actual mantra--one that we all can benefit in remembering each day we are pursuing our dreams. And Julisa's path is lit with creating her own organic perfume company (Harlem Botanica), launching this year.
I met Julissa a few years ago, and she has become a close friend. In fact, she was the pivotal spark in getting me in front of a hiring manager( and I got hired) at a company we both worked for a few years ago. That company shall remain nameless and in our past. So it did not take much to convince her to allow me to get up in her business. Well, maybe not all of her business, but the "biz-nass" of walking her path--we jump in cannonball style. And thankfully, this boss allowed me to pry just a smidge and share some of her delicious insight. Let's begin...
Could you have predicted this path of starting your own scent line? And how did you manage to pivot and take your thinking toward entrepreneurship?
Yes, I did. From an early age, I saw myself as a different person and always imagined having my own business. When I was a kid I had a food stand. I always knew, that I was not going to spend my life working for other people. At a young age I was a collector. And I remember smelling musk as a kid and the smell of "sunflower." "Estee Lauder, Pleasures"- is my all time favorite perfume and I love the way it made me feel empowered. Perfume makes me feel empowered and confident, beautiful, sexy and smart. So then I become allergic in my 20's ( around neck and chest) and was told that I cannot use fragrances that are synthetic and that have high doses of petroleum. So I need to find an alternative- which is why I went into the natural side. And started taking classes from Karon Gilbert.
What three things should consumers know about Harlem Botanica?
-Made in Harlem, with Love, one by one- made to order. So it's not sitting somewhere
-All suppliers are in an organic space and not animal tested
-Handmade, with lots of dedication
Is it time for women to stop apologizing for who they are and want to be?
Yes, life is too short. We should stop worrying so much. And we can be mothers-- we can do anything.
Finish this sentence: By being determined I've _____________ In this industry, usually people have this impression that you need a chemist. But I have found that I did not need a chemist. I have used inspiration to create my scents and being patient and hands on with the smells, feel and feeling. So you don't have to hire a chemist, but I will say that research is key. But don't be confused--there is no secret formula. You have to create your own formulas.
What do you believe is your spirit animal?
These unique bats only seen in Brazil because they are night owls and tiny like me. So for me, they are very much like my personality and they are black and I wear quite a bit of black.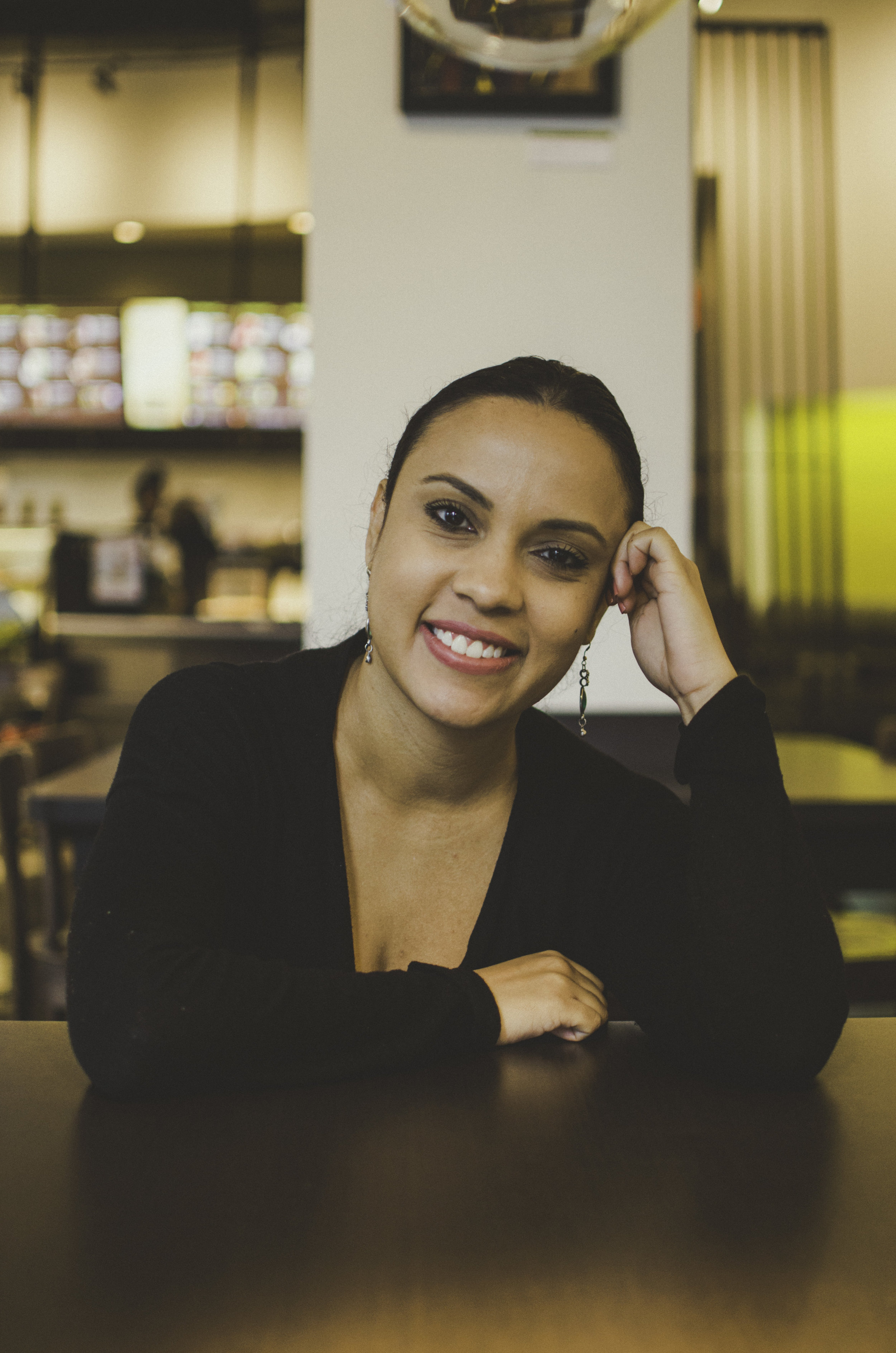 Can Women Reinvent Themselves at Any Point?
Photo: Damari McBride
Yes, at any point you can changes things. I went from bartending during undergrad at St. John's and graduate school at Long Island University (LIU)--to interning in Human Resources (HR). Thought I was going to go into teaching and then I thought about the restaurant business, since my family was involved for quite some time. And I just knew I wanted to create a world for myself. And so I decided to get my masters at LIU in HR. If you are passionate, you can do it. You have to be obsessed with your industry to get things done.
Tell us three things your mom taught you, that stick with you daily?
To be humble, optimistic and determined. I've been so fortunate and unfortunate. I lost my dad at an early age, dealt with my mom being sick but still finished school, while working and interning and holding a smile on my face. Big believer in being optimistic. My mother ( aka the diva) has always told me to be humble. She has always said you are not better than anyone else. Help others and listen to other people because you never know how you can impact other people. And I've seen what it looks like for people to not be humble within our family as well. She always said, " you can be determined." When I started dating she wanted me to be reminded that I should be able to rely on myself and be an independent and determined and thru that have strength to walk away from relationships, jobs and etc if I needed to. She didn't want me to repeat her life. She never wanted me to be stuck and being determined helps.
IS fearlessness inherited or can it be learned?
I can only see it as inherited. It can be learned though…buuut,I see it as inherited. I've been a risk taker my whole life. I can only see it being inherited from my parents. For my brothers they are more learning it than anything else. My brothers have said they saw that I could do these different things in life and so they too have done well for themselves. And then I believe people can just be inspired, much like a friend of mine from college who is following her dreams.
How has education changed /enhanced your life?
To be honest, if I could go back and do it over, I would have gone to school in France. My education showed me that I was right all along- that I wanted to own something of my own. Working in HR has shown me real time struggles of the process of being hired, fired, laid off and the emotional side of that wheel. The companies I've experienced have been about the bottom line and so education has taught me how to treat people in business and really be aware of what people are looking for in life so they feel comfortable to work for a company. Education taught me, I'm on the right path with starting my own perfume business and company. Education has taught me to not settle.
What does the word LOVE mean to you?
Loyalty should be first to whomever you pray to and believe in. Then comes self love, family love. You have to love what you do- so it doesn't feel like work. Regarding relationships- loyalty and patience is very important because there is not a lot of time.
Be sure to follow her on this journey by visiting Harlem Botanica!